MMMIGS Career Orientation Workshop
The Minds, Media, Machines Integrated Graduate School (MMMIGS) is hosting a career orientation workshop for doctoral candidates and postdoctoral researchers. The workshop will take place in person on the 22nd of September, 10:00-15:00, and will be held in English. Please find a detailed description of the workshop contents below. Following the workshop, there will be a voluntary online coaching program to accompany the implementation of the strategies conveyed during the workshop.
Doctoral candidates and postdoctoral researchers are eligible to participate in the workshop if they are members of a doctoral program that is associated with MMMIGS or if their supervisor is a member of the high-profile area Minds, Media, Machines. Please check your eligibility before registering and provide the corresponding program or working group in the registration form. In case of doubt, please contact MMMIGS coordinator Lena Wollschläger.
One of the main challenges young researchers struggle with when it comes to career development is understanding which of the many career paths they should pursue after their PhD or Postdoc. Do you ever ask yourself:
What am I going to do after PhD / Postdoc / etc.?
Should I stay and pursue an academic career?
Should I go and pursue one of the 100s of "alternative" careers outside of academia?
What would be a good fit for me?
Where do I start the process of career transitioning?
Where do I find the positions?
In this workshop, Dr. Amani Said will take you through the necessary steps to be able to answer some of these vital questions about your career as a scientist. As a result of this workshop you will understand what are the main factors you need to create your professional identity and set the foundation of a successful career transition and career development as a scientist. You will learn: 
What you need to gain more clarity on your career path.
How to create a career vision & plan.
How to uncover your core values and main skills.
How to develop a growth-mindset to achieve any career goals you have in mind.
Following the workshop, there will be a voluntary online coaching program to help you with the implementation of the learned strategies. More details about the program will be provided during the workshop.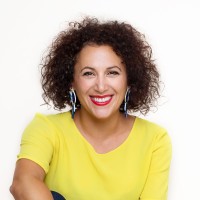 "Your Career is like a never-ending experiment, be Curious, Explore and Enjoy the Re-Search"
Amani Said is on a mission to empower scientists in launching their dream careers and leveraging their Ph.D. to make a real IMPACT in our society. She completed her Ph.D. studies in Developmental Biology at the Max-Planck Institute in Dresden, Germany. Today, she is applying 16 years of experience as a scientist and educator to train scientists.
Amani has designed unique online career coaching programs specifically to support early researchers to develop successful careers. As a result of taking her programs, scientists create a strong professional identity, gain clarity about their skills, values, goals and which career path is ideal for them via learning all the necessary career development tools, while developing a growth mindset.