MMMIGS Career Orientation Online Program
The Minds, Media, Machines Integrated Graduate School (MMMIGS) is hosting a career orientation online program for doctoral candidates and postdoctoral researchers. The program will take place in the period from the 24th of October to the 25th of November 2022 and consist of five online workshops (2hrs/workshop/week) that will be held in English. Additionally, participants will receive access to an online course (videos with workbooks and exercises) complementing the topics covered in the workshops. Please find a detailed description of the contents below.
Doctoral candidates and postdoctoral researchers are eligible to participate in the program if they are members of a doctoral program that is associated with MMMIGS or if their supervisor is a member of the high-profile area Minds, Media, Machines. Please check your eligibility before registering and provide the corresponding program or working group in the registration form. In case of doubt, please contact MMMIGS coordinator Lena Wollschläger.
This program is delivered as 5 live workshops (2hrs/workshop) over the course of 5 weeks. Participants will learn:
What they need to gain more clarity on their career path.
How to create a career vision & plan.
How to uncover their core values and main skills.
How to develop a growth-mindset to achieve any career goals they have in mind.

To enable the participants to dive deeper into the content covered in the workshops, participants have access to an online course (videos with workbooks and exercises) complementing the topics covered in the workshops.
What makes this program unique is the combination of training and coaching. The online group coaching takes place during the weekly workshop sessions and the online community on a weekly basis and the Q&A sessions.
The online community offers great support from other peers and is a space to get
feedback and coaching from your coach and peers during the entire program and beyond
(life-time access).
A common issue when people learn new information, is to take the information they learn
and implement it to get results. This program will help participants overcome this common obstacle by setting up an accountability system. Participants will be matched up with accountability buddies, other scientists in the program, in order to support each other in taking imperfect consistent action on a regular basis throughout the program. Action is the keyword that will get you results! This is also a very effective way to build a sense of community and a supportive culture for your research community.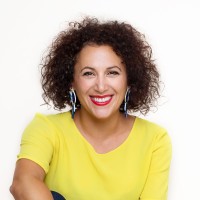 "Your Career is like a never-ending experiment, be Curious, Explore and Enjoy the Re-Search"
Amani Said is on a mission to empower scientists in launching their dream careers and leveraging their Ph.D. to make a real IMPACT in our society. She completed her Ph.D. studies in Developmental Biology at the Max-Planck Institute in Dresden, Germany. Today, she is applying 16 years of experience as a scientist and educator to train scientists.
Amani has designed unique online career coaching programs specifically to support early researchers to develop successful careers. As a result of taking her programs, scientists create a strong professional identity, gain clarity about their skills, values, goals and which career path is ideal for them via learning all the necessary career development tools, while developing a growth mindset.
Please fill out the following form to register for the online program. Information on the processing of your data according to Paragraph 13 DS-GVO is available here: data protection declaration.